BILLY FLYWHEEL is a comedy talent not to be missed. Laughs galore are guaranteed from this unique and most original of entertainers with his zany humour, send-ups and audience participation. With over two hours of clean, non offensive comedy material, Billy is the ideal choice for any after dinner occasion, be it single or mixed.
Billy has proved to be a big hit both on the corporate market and after dinner circuit. At Sportsman's dinners he has appeared alongside numerous Sporting legends such as Bob Champion, John Parrot, Angus Fraser, Alex Stepney, Barry Fry, Dave Bassett, Graham Poll, Duncan Mckenzie, Joey Jones, Mickey Thomas, Jan Molby and Paul Merson to name but a few. He has been Match day comedian and done various corporate events for several Premiership, Championship and Football League Clubs and is also a popular choice at Golf dinners, Conferences, Social, Masonic, Rotary and other high profile Black tie events.
Billy has appeared on National TV and has won five comedy awards Nationwide. He has appeared at all the major holiday venues and also on the Ultimate Laughter Show alongside such comedy greats as Frank Carson, Norman Collier and Johnnie Casson.
During the 1990's he supported such legendary names as Edwin Starr, The Drifters, The Searchers, Billy J. Kramer, Dave Berry, The Real Thing and The Brotherhood of Man, in Theartres and Cabaret Clubs all over the UK.
Billy who has been acclaimed a comic genius in numerous publications including 'The Stage' newspaper, also possesses a good singing voice and in 1995 he released a novelty fun song called 'Around the old camp fire' which proved very popular at holiday camps and scout associations across the world. In December 2007 he performed a self penned song called 'You're My Christmas Baby' in front of over 23,000 people at Sheffield United Football Club that reached number 11 in the digital download charts.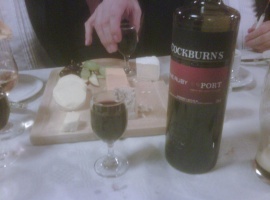 Carholme Golf Club members and their guests enjoy the wine and food on a very entertaining evening
of magic and comedy with Billy Flywheel.